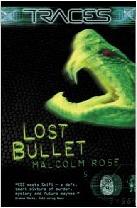 Welcome to the Traces Wiki!
TRACES Wiki is a collaborative website about Malcolm Rose's TRACES series that can be edited by anybody!
Overview
TRACES is a series of crime novels set in Great Britain in an alternate reality, where many things are different from what we know. It is set in the near future, where culture has moved up North, and Birmingham is the new capital, and London is a wreck. TRACES Wiki uses the following measures of time: BBL, 0 and ABL
Quote of the Week
Poll
Who is your favourite character?
Ad blocker interference detected!
Wikia is a free-to-use site that makes money from advertising. We have a modified experience for viewers using ad blockers

Wikia is not accessible if you've made further modifications. Remove the custom ad blocker rule(s) and the page will load as expected.